Independent consultants
Prospect provides a number of services for members working as independent consultants in the education and children's services industry.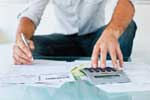 We provide:
professional indemnity cover
a Model Consultancy Agreement
training courses
Professional indemnity
Our professional indemnity scheme is open to all employed and self-employed members of Prospect's ECS Group and to partnerships of limited companies. It can be used to insure against claims arising from negligence, errors or omissions in connection with their work as inspectors, advisers and consultants or other professional services recognised as being within the scope of practice.
Model Consultancy Agreement
We have a Model Consultancy Agreement for use by independent educational consultants, prepared for ECS group members by our legal advisor.
Training courses
Prospect's ECS members have access to Bectu's courses for freelancers. These are especially useful if you want to learn more about managing your finances, building your own website or setting up as a sole trader.  As Prospect members you'll also pay the reduced rate.
We have received positive feedback from ECSG members who have attended BECTU's courses aimed at freelancers. We share this quote below from someone who attended the Beyond Redundancy course:
"I just wanted to thank you for recommending the Beyond Redundancy course. It was excellent. The presenter explained things very clearly and made what could have been a very dry subject interesting."
Contact us on 01924 207890 or email Wakefield@prospect.org.uk for details of events run by Prospect to help members who are moving into self-employment.