Join Prospect's Education and Children's Services Group
If you're a professional working in education, children's services, early help or children's social care, join Prospect's Education and Children's Services Group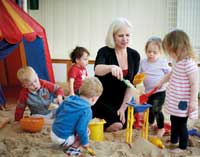 Three good reasons to join us:
We are the only organisation to represent professionals in educational improvement, and speak authoritatively on their behalf
We are experts in educational improvement, and our goal is to maintain the highest standards in a rapidly changing world.
We have strong links with the parliamentary world and are active in a national network of organisations involved in education and children's services, giving our members a voice in key debates and decisions.
Other benefits of membership include:
a dedicated magazine about current developments in school and educational improvement
access to career support and training services
professional representation and free legal assistance for work-related issues, including salaries, contracts, conditions of service, workloads and pensions
a range of benefits at preferential rates including professional indemnity insurance
a free 24-hour legal helpline and personal injury compensation scheme
guarantee to cover employment tribunal fees where the union agrees to represent you.