Information, Advice and Support Services
Parent Partnership Services, local authority arm's length bodies that support parents and carers of children with special educational needs, have been renamed to reflect new social care and health responsibilities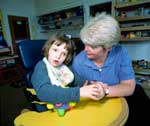 The Children and Families Act came into effect in September 2014 and as a result, several key changes were introduced that had a significant impact on Parent Partnership staff.
Not least of these was a change of name – from Parent Partnership Services (PPS) to Information, Advice and Support Services (IASS). This reflects the extension of their remit to include social care and health responsibilities, in addition to education for the 0-25 age group including apprentices and college students.
Prospect's ECS Group has a long-standing involvement in PPS issues and over several years has worked jointly with professional body the National Association of Parent Partnership Staff (NAPPS) and the National Parent Partnership Network (now known as the Information, Advice and Support Services network) on matters of common interest, including training events.
For example, the ECS Group has recently collaborated with the University of Derby over the development of the Special Educational Needs and Disability (SEND) foundation degree course.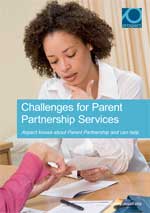 The ECS Group recognises the challenges, threats and opportunities the Children and Families Act creates for IASS professionals and has been campaigning across England to raise awareness of these issues.
The union has also recently run a recruitment campaign to strengthen its membership among this key group of staff so that it can provide effective support and representation in the workplace.
For more detailed information about Aspect's advice and support for PPS professionals please see the leaflet Challenges for Parent Partnership Services and a feature article in Improvement magazine (spring 2014) by Ollie Pardo, a leading figure in the world of IASS.
Documents
There are no documents for the network yet