Redundancy and restructuring
These are turbulent times, with cuts in spending across local government threatening services, jobs and pay terms and conditions.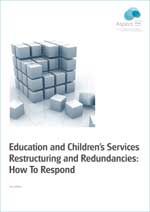 We have produced a short guide for members and local representatives on responding to redundancies and restructuring in local government.
We have also produced summary guidance on one-to-one interviews following a redundancy/restructuring announcement, and advice on redundancy break in service.
Consultation
It is important that Prospect's ECS Group representatives and officials engage with the consultation process.
If a redundancy is announced in your local authority, please ensure your negotiations official knows about it. You can contact them via wakefield@prospect.org.uk or by calling 01924 207890.
You can find initial information about the employer's consultation in our guidance booklet, and in our list of frequently asked questions (FAQ).
Equality
You can find information about equality issues in restructuring or redundancy, and the employer's responsibility, on the Equality and Human Rights Commission website. If you need specific advice or guidance on this, please contact us on 01924 207890 or wakefield@prospect.org.uk
Protecting services
Our priority is to try to protect services and prevent compulsory redundancies. Involving members, with their considerable expertise, is essential, so we encourage them to ask written questions, consider alternatives and draft a critique. You can download an example of such a critique.
Pensions
If you're considering taking redundancy, it's essential to get accurate pensions information before you agree to leave. You can find general information on the Local Government Pension Scheme and Teachers' Pension Scheme websites, but you should make sure you have a firm (and checked) figure before you take redundancy.
Getting organised
The more members we have, the stronger we are. If there's a non-member in your workplace, sign them up - they can join online immediately or you can download a paper form for them to fill in.