Agriculture
The Environment Agency has high visibility in the agricultural sector and regular contact with farmers. It works to help them avoid diffuse pollution from run-off that may affect water quality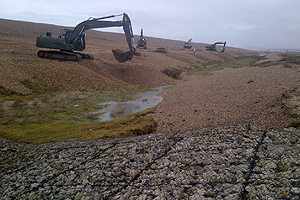 Pig and poultry production is a vital part of UK agriculture and accounts for around a fifth of total agricultural output.
The agency carries out inspections under environmental permits for large pig and poultry sites and groundwater permits for pollution prevention (silage, slurry, fuel oil regulations) and nitrate vulnerable zone regulations.
It controls the deployment of mobile plant for land-spreading sewage sludge, and audits 20% of these deployments.
Why is this important?
Diffuse pollution can be the major contributor to failings in water quality along streams and rivers. This affects ecology and can also affect domestic water supplies.
Where the cuts may fall
Prospect is anticipating a £13m reduction in grant in aid for EA's water, land and biodiversity work. A reduction in compliance, advice and guidance to farmers will inevitably affect water quality and hence biodiversity, angling and possibly potable water supplies.
Photo credit: Environment Agency (Flickr)