Fisheries and biodiversity
The Environment Agency maintains, improves and develops fisheries and increases the socio-economic benefits of fishing, especially in rural and low-income areas.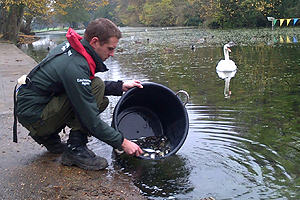 It protects and enhances England's diverse aquatic habitats and wildlife and helps to deliver the requirements of the Water Framework and Habitats Directives.
It regulates fisheries and fish stocking and protects wild populations of salmon, sea trout and coarse fisheries by anti-poaching enforcement.
Why is this important?
Three million people go freshwater fishing annually, spending £1bn and supporting 37,000 full-time jobs. Angling is important in rural areas with low income levels, where tourism makes a real difference to local economies.
Fishing rights in England and Wales are worth £3bn. Fishery owners spend millions of pounds improving the aquatic environment to protect their assets. Anglers also deliver a huge volunteer effort to maintain and improve the aquatic environment.
Where the cuts may fall
Intelligence suggests funding cuts of 10-14% are likely, leading to a reduction of £2.4m to area teams, with reduced effort on habitat improvement, illegal fishing and anti poaching and reduced participation in events and partnerships.
Photo credit: Environment Agency (Flickr)