Flood and coastal risk management
The Environment Agency maps, models and manages flood risk on rivers and the sea – from developing strategies to constructing and maintaining flood management schemes and responding to incidents 24/7.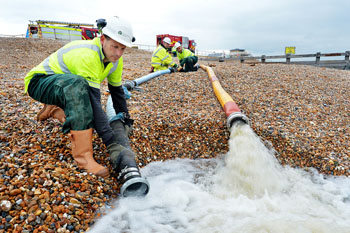 Its data informs individual schemes, maintenance plans and catchment-wide or shoreline strategies, which are developed with local authorities and internal drainage boards.
It maintains the defences or manages contractors undertaking this work. It regulates developments and the activities of landowners near watercourses and flood defences to ensure they do not compromise flood risk.
It helps other flood risk management authorities to plan measures.
Flood and Coastal Risk Management also operates the flood forecasting centre in partnership with the Met Office, and runs a 24/7 incident response capability to issue flood warnings and provide response teams on the ground to ensure defences are functioning etc.
Why is this important?
5.2 million properties – one in six – are at risk in England, 2.4 million of them from the sea and rivers. A long-term investment strategy produced in 2009 established that spending needed to increase by £20m per year just to maintain flood risk from rivers and the sea at existing levels. The strategy excluded the cost of managing surface and groundwater flood risk.
Where the cuts may fall
FCRM has experienced two reductions in staff in the comprehensive spending review period up to April 2014. Between 2010 and early 2014, the number of FCRM staff was reduced from 4,100 to 3,141. While the public message has been 800 job reductions, the actual picture is worse.
The government planned further cuts, before the flooding of winter 2013-14 caused a re-think. Planning in January 2014 projected a further reduction of frontline staff from 2,431 from April 2014 to 2,131 in April 2015, centralising more work into a "national, once" model (to leave 470 staff in such roles), creating a total complement of 2,600. This document projected a salami slice reduction, so all activities would be affected.
However, the floods resulted in a stay of execution. The agency received £130m in response to the winter floods. The first £30m was allocated to be spent on repairs before the end of the last financial year, with the further £100m allocated to 2014-15.
A further £140m was made available in the March budget to be spent this financial year and next. The increase in funding means agency is not proceeding with the previous planned cuts in frontline FCRM staff, so there are now restrictions on them opting for the voluntary redundancy scheme.
However, this level of funding is only guaranteed for this year and next, so it is essential that the agency's next long-term investment strategy document makes a robust case for revenue maintenance as well as capital investment to sustain the performance of the nation's flood defence assets, and the capabilities of the teams that maintain them.
The incident response capability of the agency's field teams is already at 90% of that needed to sustain a robust response to flooding and pollution incidents. Cuts of the size previously proposed would have reduced this further to around 80% and must be avoided in the 2015 spending review.
Around a third of the circa 4,500 staff who supported the Environment Agency's response to the winter floods were from non-flood risk management roles.
The agency relies on non-flood management staff having incident roles, such as providing flood warnings or supplementing field teams on the ground, to provide the level of incident management that a continued incident demands.
These roles are still threatened with job losses, so it is inevitable that a great deal of experience of incident management will be lost in coming months, and the agency's ability to manage sustained incidents will be denuded as a result. The frontline therefore remains threatened.