Navigation of waterways
The Environment Agency is the second-largest navigation authority in Britain and is responsible for nearly 1,000 km of navigable waterways.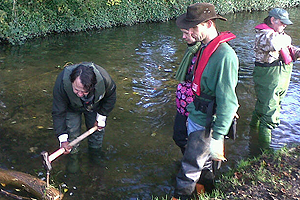 The agency manages the rivers Thames, Nene, Ouse, Welland, Glen, Ancholme, Stour, Medway and Wye. It is the harbour authority for Rye, Dee and Lydney harbours.
It maintains the water levels in rivers; major structures such as lock chambers, gates, weirs and bridges; as well as facilities such as showers, toilets and sewage pump-out facilities.
Why is this important?
Approximately 32,000 boats are registered for use on our waterways. There were over 10 million visits a year to one popular Thames lock site alone.
Visits to waterways managed by the agency contributed approximately £1.2bn to the economy in 2009 in England and Wales. The agency's navigation expenditure in 2012 was approximately £16m.
Where the cuts may fall
The agency's service for boaters comes from government grant in aid and income from boat registrations, charges, rents and other activities.
Teams are likely to be subject to reductions in line with the typical reduction for the agency of 10-15%. Following the reductions in 2010, navigation has just one full-time equivalent member of staff at national office.
Services for boaters will be reduced and this will have an impact on the economic benefits of waterways. There may also be implications for flood risk and the safety of boaters if waterways maintenance is reduced.
In 2011 it was originally proposed that in 2015-16 the Environment Agency's navigation responsibilities should be brought into what is now the Canal and River Trust (formerly British Waterways) – Britain's largest navigation authority.
However, in 2013 the government decided that until the finances of the Department for Food, Environment and Rural Affairs improved, transferring EA navigations was unlikely to be affordable.
Photo credit: Environment Agency (Flickr)