Planning
The Environment Agency is a statutory consultee to local authorities for planning applications related to its statutory duties on flood risk, protection of land and water quality, waste regulation and fisheries.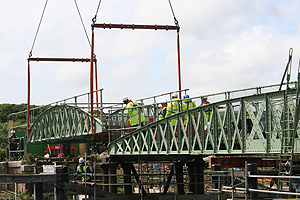 The agency is a "specific consultation body" for the preparation of local development plans and a statutory consultation body for strategic environmental assessments and environmental impact assessments.
It also advises government departments on national policy statements and accompanying sustainability appraisals. It is a statutory consultee for applications for development consent for nationally significant infrastructure projects.
In 2012-13, the agency:
made 30,251 consultation responses on planning applications and pre-application enquiries. Of these, 83% (24,984) were on planning applications and 17% (5,267) were on pre-application enquiries
provided advice to 304 strategic plan documents across England
engaged in 60 ongoing nationally significant infrastructure projects in England.
Why is this important?
The agency advises on the implications of development on pollution, biodiversity, fisheries, flooding and water resources.
Without this advice there would be significant implications for the natural environment, flood risk and the availability of water, particularly in the south-east, where significant areas are classed as being water stressed, meaning water demand is greater than availability.
A Government Climate Change Committee report in 2012 indicated that development in the floodplain grew at a faster rate (12%) than elsewhere in England (7%) over the past ten years. One in five properties built were in areas of significant flood risk under today's climate.
Even where the agency commented on flood-related issues, 4% of applications (an average of around 100 per year) were approved by the local authority contrary to the agency's sustained objection.
Where the cuts may fall
Cuts are likely to be at least in line with overall reductions in agency staffing of 10-15%. Work for which the agency is not a statutory consultee is likely to be stopped and officers' ability to properly scrutinise individual applications will be reduced.
According to The Independent newspaper (17 February 2014), the agency is proposing to stop commenting on the biodiversity aspects of planning applications because of budget cuts. This will affect about 3,500 applications.
Ultimately these changes may be reflected in poor planning decisions and increasing pressure on the environment, flood risk and water resources, particularly in the light of future climate change and extreme weather.
Photo credit: Environment Agency (Flickr)