Recreation
Under the Environment Act 1995, the agency promotes the use of inland and coastal waters and land for recreation and also ensures the availability of water or land that it owns for recreation purposes.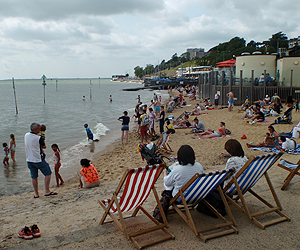 The agency reviews around 600 capital schemes each year to access their suitability for enabling or improving access.
It currently manages approximately 550 sites totalling over 5,000 hectares incorporating public access and recreation activity. It ensures access for disabled people and that the sites remain safe for visitors. Fisheries and navigation are dealt with elsewhere.
Why is this important?
There were almost 2.5 billion visits to the natural environment in England in 2010-11. Two out of three were made by people within two miles of their homes, illustrating the importance of accessible local green space.
People spent money on only a quarter of visits to the natural countryside, but the average spend of £30 means an aggregated total of £17bn expenditure.
Recent studies have suggested savings in health and social care. Having a view of green space from your home can save up to £452 per person, based on quality adjusted life years (QALY).
Green spaces can also reduce flood risk and help absorb airborne pollutants. Encouraging physical exercise through local schemes and active transport planning can save between £12 and £39 per person. Such initiatives also help to improve air quality and mental health.
Where the cuts may fall
The agency's strategic plans for water-based recreation maximise the recreational potential of coastal and inland waters.
But grant-in-aid reductions in 2010 meant that this work was halted, with the focus on promoting recreation on land owned or managed by the agency.
A further reduction in resources is likely to be at least in line with the expected 20% cut for the Environment and Business Directorate as a whole. It is likely to significantly limit the agency's ability to support recreation as a mechanism for supporting economic growth and health benefits.
Photo credit: Environment Agency (Flickr)