Waste management
Over 177 million tonnes of waste are generated in England every year. Regulatory staff help ensure waste management activities are safe and do not cause environmental pollution or harm to human health.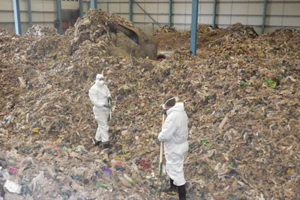 Waste management activities that are dealt with by regulatory staff at the Environment Agency include:
disposing of household rubbish in incinerators or landfill sites
high-tech recovery and recycling of high-value materials
the specialist treatment of hazardous industrial waste streams.
Unauthorised activities, which carry the greatest risk of pollution and harm to health, are subject to extensive enforcement. The agency prosecutes the worst criminal offenders and works in partnership with businesses operating lawfully to provide advice and guidance in the interests of environmental and economic sustainability.
The agency has a national Waste and Industry Regulatory Service, which captures and collates environmental data from across various sectors.
This includes: the pollution inventory; Flycapture – the national fly-tipping database; waste returns; landfill; producer responsibility scheduling; packaging waste; and electrical and electronic equipment.
Why is this important?
Waste transfer and treatment sites, composting, anaerobic digestion, municipal and industrial landfill etc can all give rise to significant amenity problems like odour, noise and dust if they are not well managed.
The agency's interventions help residents to live their lives with the minimum of disruption and impact, while enabling legitimate businesses to operate sustainably.
Certain types of waste management site carry a high risk of explosion or fire – regulatory work manages these risks.
The benefits of protecting land, air and surface and groundwater environments from pollution are less visible but critically important in protecting our natural resources in the long term.
For many customers, the WIRS is another of the public faces of the organisation. It ensures compliance from potentially polluting industries and fairness for law-abiding businesses.
The data collected by WIRS is key to developing policy and assessing the country's compliance.
Where the cuts may fall
Before the March 2014 budget, funding to fight environmental crime was set to be cut by 70%.
The budget promised a further £5m to deal with environmental crime, with £3.5m for 2014-15 and £1.5m for 2015-16. The agency is currently reviewing how this will affect the earlier 70% figure.
Maintaining a meaningful regulatory presence across the sector is already challenging, as the agency prioritises its efforts to the most problematic sites. The public may be less well protected in their homes as resources are is stretched even further.
Criminal organisations active in the waste management industry will persist longer, putting people and the environment at greater risk of harm and pollution. They will also undermine the contribution made by legitimate businesses to sustainable economic growth. Legitimate businesses will receive less assistance and support.
Each £1 spent tackling such crime raises about £3 for the Treasury in landfill tax. In 2012-13, the agency closed 1,271 illegal sites and found nearly 900 more – the first time more had been closed than opened. Cuts are a significant threat to repeating this success.
Photo credit: Environment Agency (Flickr)