Support public interest science
Thousands of Prospect members work in public interest science across the UK. They undertake a vast range of valuable work - from DNA to diet; from cancer to climate change; from lasers to lakes, and much more.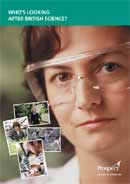 All this science, much of it hidden from the public eye, is carried out in government research institutes, where experts from many disciplines collaborate in a stable and long-term setting.
But the government's increasingly short-sighted, short-term approach - applying the just-in-time philosophy of stacking supermarket shelves to the science base - is placing this valuable legacy and its future in danger.
In recent years, world-leading UK programmes including research into breast cancer, agri-engineering and animal diseases have been closed. Research on the impacts of climate change, pollution and biodiversity all face substantial cuts.
It is not in the national interest to close down so much work of practical application, peer-reviewed for quality, and providing direct support for the UK's international commitments on climate change and the environment.
These cuts put the UK at real risk of being unable to respond when the next major health or environmental crisis occurs.
You can download our science briefings and other campaign publications using the links below, or read a little more about the background to those campaign initiatives.
Prospect's 'charter for public interest science
Public interest science in Britain needs:
recognition of the crucial role played by science for the public good

a clear strategic vision for UK science

a halt to 'cost-driven' lab closures and privatisation

adequate funds to invest in long-term research and infrastructure

a stable work environment, ending the culture of continuous review and reorganisation

decent pay and careers for staff

action by scientists and government to promote better public understanding of scientific issues

open decision making

a Cabinet minister with authority and accountability for public sector science and a similar ministerial role in the devolved administrations.