Whichever party is in power, Prospect needs a political fund
Our political fund ballot has now closed. Members voted overwhelmingly in favour of retaining the fund.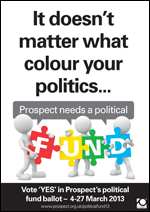 Read the full breakdown of the results.
Background
As a campaigning organisation, Prospect engages with politicians and political parties in a number of ways, from writing letters to individual MPs to lobbying party conferences. Since 1984 the law has defined such activity as 'political'. Unless a union has a political fund this activity could be ruled unlawful in the courts. A political fund is therefore an insurance policy to protect the union from a legal challenge that it is engaging in unlawful 'political activity.'
Prospect (like several of its predecessor unions) has had a political fund since 2003. Our fund is financed by a small levy from each member's subscription – currently 5p a month. Any member can opt out of contributing to the fund.
By law we have to ballot every member on continuing the fund every ten years. The latest ballot ran from 4-27 March 2013.
Our Q&A aimed to deal with any initial questions you might have. We also produced a set of speakers' notes for reps. The Q&A and speakers' notes were designed to be used in conjunction with each other.