Fiona Simpson
Fiona has been an operations manager for BT Openreach since 2003. She has worked for BT for 36 years, starting as a telephone operator in 1977 when she was 17. Openreach employs 25,000 engineers and delivers the local access network that provides data, broadband and voice services to homes and businesses throughout the UK. It provides equal access to this network for all communications providers. Fiona manages volume operations, where engineers go to houses and repair faulty lines.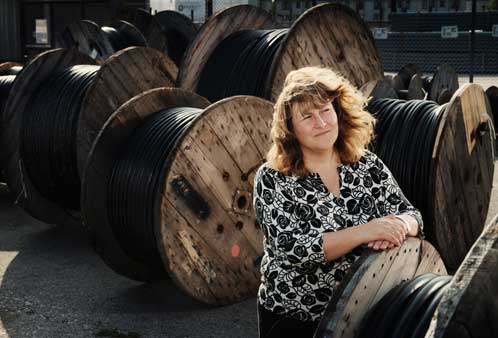 I've never felt like I need to prove myself because I'm a woman. There weren't many female managers in this business, until ten years ago. There are more and more coming in, but it is still male dominated. We have about 140 engineers working in the North East, and only one is female.
"I started working in this industry probably because I had relatives working here. There were good opportunities so I applied for a vacancy and got the job. It wasn't very male dominated since I was working in the telephone exchange, which was full of women. It was always the engineering side that had predominantly male employees. Ten years ago the directory enquiries centre was closed and I got the opportunity to come to the engineering side. I didn't have any technical experience or anything like that.
"I'm only managing men. I know the fundamentals of what they do and it's all about people management. So because I'm managing the team, I carry across the people management skills I had in the call centre.
"What I like most about this job is its variety. You just never know what you're going to get. I must admit it's a bit strange from being proactive in directory enquiries and now being more reactive because you never know what's going to happen next. You could have storms and need to try to get the service back up and running, or you could come in and an engineer might have had an accident; you just don't know what you will come in to.
"It was a bit daunting having to manage a team when I was new to the environment. During the first team meeting there were a lot of terms that I wasn't sure of and I had to try and understand. It was also daunting having 20 men facing you.
"I think the reason there are so few women working here is that it can be quite a harsh environment. You have to dig up or remake cables, sometimes you have to be outside in whatever weather. But there are quite a lot more female engineers coming in now.
"It is still a male dominated area. We have about 140 engineers working in volume operations in the North East, and out of them there is only one female engineer who has just started.
"I've never felt like I need to prove myself because I'm a woman. There weren't many female managers in this business, up until ten years ago, but there are more and more coming in.
"You have pretty much similar problems working with men and women. I think sometimes when you're having a chat with men it's more direct. And I've found a lot of the men would open up a bit more because I would listen.
"I don't know what to think of hiring on a quota basis. The mix is good, because you sometimes find that a feminine touch can help as well, it just brings a different dimension and a different way of thinking about certain things."