Women in science, technology, engineering and maths
"I agree that the government should set up a minister-led commission involving Prospect and others, to increase the 13% of women in STEM careers to 30% by 2020"
What is STEM?
STEM is an acronym for science, technology, engineering and mathematics.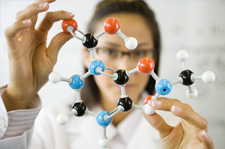 STEM careers are integral to the UK's success: we are the world's sixth-largest manufacturer; engineering turnover is around £800 billion per year, and while we make up only 1% of the world's population, we produce 10% of the world's top scientific research.
Despite this, and although STEM graduates have the potential to earn among the highest salaries of all new recruits, employers are finding it difficult to recruit STEM skilled staff – particularly women.
Women make up half of our workforce, but only 13% of STEM employees overall are women; less than 7% of engineering professionals are women; and only 1% of skilled tradespeople. The 'leaky pipeline' – where women drop out of STEM jobs at all stages of their careers – means that a higher proportion of women than men either never use their STEM qualification or leave to work in other areas.
Alongside our need for a skilled STEM workforce, all young people, regardless of their future career, need STEM knowledge and skills so they can become informed citizens in an increasingly scientific and technological society.
Prospect has around 14,000 female members working in STEM, and we have been investigating their experiences. A programme of qualitative research in 2011 was followed by a large scale survey in 2012 to which 2,000 women replied. Many had been inspired by teachers to go into STEM. They spoke positively about the enjoyment they get from providing solutions and making a difference, but were also frustrated by lack of leadership, lack of consistency and feeling sidelined.
Around 30% of respondents felt their career had been hindered by their gender, and the proportion increased markedly with age. They talked about the difficulties, and the impact, of having a family, or of part-time working associated with child or elder care. Many of the women felt they had only survived – let alone progressed – because they did not have caring responsibilities.
Optimism to resignation
It seems there are four stages in a female STEM career:
optimism
uncertainty
glass ceiling
resignation.
We need to break out of this cycle. Unions can help.
Our members tell us that supportive line managers – many of them also union members – make a huge difference to the quality of women's working lives, as do opportunities to network with other strong women. Prospect:
runs a number of equality networks, including one specifically for women in STEM
has organised workplace networking events, eg at the National Physical Laboratory and AWE
runs a mentoring programme developed with Union Learning Fund support
has a Linked-In group.
Even in these difficult times, there are opportunities. With growing evidence of skill shortages and gaps, and the important role of the STEM workforce in securing and sustaining economic recovery, there's a compelling business case for decisive action now.
An example – physics professors
In 1991 the number of female professors of physics in the UK doubled: it went from one to two! By 2009-10, it had risen to 36 – clearly an improvement. But that is still only 36 out of a total of 650. A fifth of the UK's university departments still have none. Clearly there is work to be done before women are more equally represented in this area.
The UK cannot afford this waste of talent.
Where now?
There have been very welcome contributions to this debate including:
the Royal Society of Edinburgh's report 'Tapping All our Talents' (2012). This led to significant recommendations to link university research funding to gender equality and a new strategic approach for Scotland
the Women in Science and Engineering campaign (WISE), which has led the call for a target of 30% of women in STEM, now part of the Prospect pledge
the 2007 McKinsey Report which focused on education and teaching and said that teachers need to challenge stereotypes.
In January 2013 Prospect launched a charter for women in STEM which sets ten goals for organisations, employers and decision makers, and has been endorsed by the TUC Women's conference.
We believe the UK urgently needs a stronger driving force to enact cultural behaviour change. This pledge calls for more accountable leadership from the top, through a minister-led working commission, but working with unions and other expert bodies to drive this change.
The UK has the potential to be one of the best places in the world to work in STEM professions – a destination of choice for talented women from the UK and abroad, and with spin-off benefits for the wider role of women in our society. But we need a coherent strategy, applied with energy and determination.